We welcome Bayreuth University Library as our new contributing institution. The library is in charge of the University's Open Access Publishing Fund, which is supported under the DFG's Open Access Publishing Programme.
Contact persons are Clemens Engelhardt and Stephanie Kroiß
About the dataset
The present dataset contains information on publication fees which has been paid since 2013.
Cost Data
The dataset covers publication fees for 57 articles, which the fund covered in 2013 and 2014. Total expenditure amounts to 64 519€ and the average fee is 1 132€.
The following table shows the payments Bayreuth University Library has made to the publishers (including taxes).
|   | Articles | Fees paid in EURO | Mean Fee paid |
| --- | --- | --- | --- |
| MDPI AG | 11 | 13789 | 1254 |
| Copernicus GmbH | 11 | 13309 | 1210 |
| Springer Science + Business Media | 8 | 13957 | 1745 |
| Public Library of Science (PLoS) | 6 | 7372 | 1229 |
| Scientific Research Publishing, Inc, | 3 | 1252 | 417 |
| IOP Publishing | 3 | 2970 | 990 |
| Frontiers Media SA | 3 | 3824 | 1275 |
| Nature Publishing Group | 2 | 2291 | 1145 |
| Academic Journals | 2 | 912 | 456 |
| Wiley-Blackwell | 1 | 1333 | 1333 |
| Sciencedomain International | 1 | 82 | 82 |
| Sciedu Press | 1 | 232 | 232 |
| Portland Press Ltd. | 1 | 1000 | 1000 |
| Pensoft Publishers | 1 | 180 | 180 |
| International Mountain Society (IMS) and United Nations University | 1 | 447 | 447 |
| Impact Journals LLC | 1 | 1343 | 1343 |
| Canadian Center of Science and Education | 1 | 226 | 226 |
Fees paid per publisher (in EURO)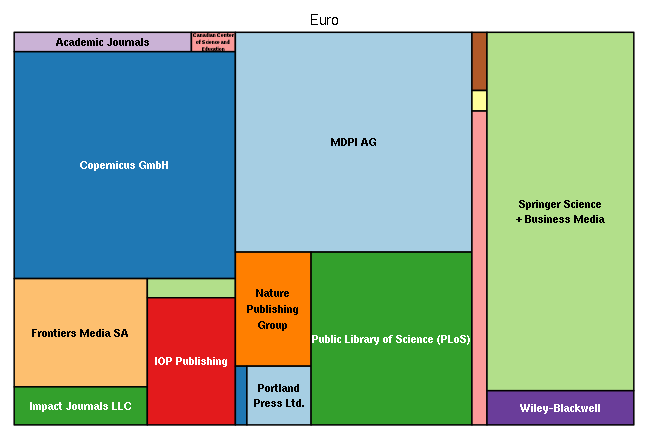 Average costs per year (in EURO)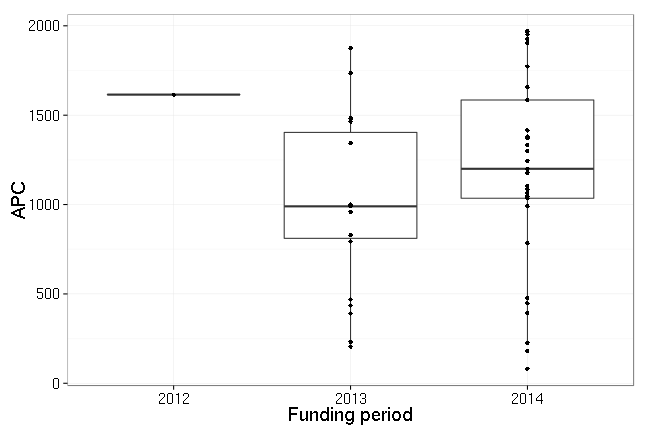 Average costs per publisher (in EURO)