We welcome the Università degli Studi di Milano (University of Milan) as our first contributing institution from Italy!
Contact person is Paola Galimberti.
About the dataset
The initial dataset contributed by the University of Milan contains information on publication fees paid in 2016.
Cost Data
The data covers publication fees for 57 articles. Total expenditure amounts to 90 069€ and the average fee is 1 580€.
The following table and plots show the payments the university has made to publishers in 2016.
|   | Articles | Fees paid in EURO | Mean Fee paid |
| --- | --- | --- | --- |
| Springer Nature | 21 | 32432 | 1544 |
| Elsevier BV | 7 | 15429 | 2204 |
| MDPI AG | 4 | 4698 | 1175 |
| Oxford University Press (OUP) | 4 | 10033 | 2508 |
| Frontiers Media SA | 3 | 4591 | 1530 |
| Public Library of Science (PLoS) | 3 | 2909 | 970 |
| Hindawi Publishing Corporation | 2 | 3218 | 1609 |
| Impact Journals, LLC | 2 | 5338 | 2669 |
| American Physiological Society | 1 | 470 | 470 |
| MedCrave Group, LLC | 1 | 230 | 230 |
| OMICS Publishing Group | 1 | 1916 | 1916 |
| Ovid Technologies (Wolters Kluwer Health) | 1 | 1246 | 1246 |
| S. Karger AG | 1 | 1732 | 1732 |
| SAGE | 1 | 1549 | 1549 |
| SAGE Publications | 1 | 2165 | 2165 |
| Sciedu Press | 1 | 215 | 215 |
| The Endocrine Society | 1 | 1288 | 1288 |
| Timeline Publication Pvt. Ltd | 1 | 110 | 110 |
| Walter de Gruyter GmbH | 1 | 500 | 500 |
Fees paid per publisher (in EURO)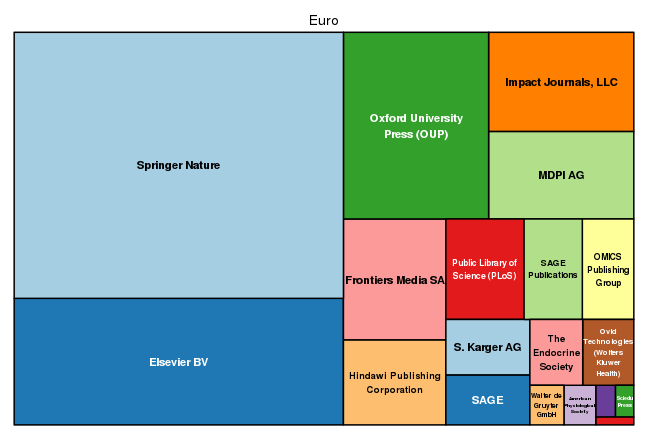 Average costs per year (in EURO)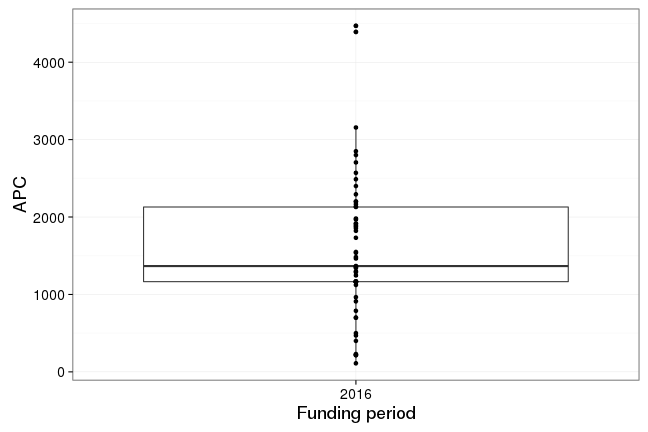 Average costs per publisher (in EURO)