The University of Duisburg-Essen has updated its APC expenditures, the latest contribution provides data for the 2017 period.
Duisburg-Essen University Library is in charge of the University's Open Access Publishing Fund, which is supported by the DFG under its Open-Access Publishing Programme.
Contact persons are Frank Lützenkirchen and Katrin Falkenstein-Feldhoff.
Cost data
The new dataset covers publication fees for 41 articles. Total expenditure amounts to 72 979€ and the average fee is 1 780€.
The following table shows the payments Duisburg-Essen University Library has made to publishers in 2017.
|   | Articles | Fees paid in EURO | Mean Fee paid |
| --- | --- | --- | --- |
| Springer Nature | 11 | 20859 | 1896 |
| Public Library of Science (PLoS) | 6 | 9261 | 1544 |
| Frontiers Media SA | 5 | 10489 | 2098 |
| BMJ | 3 | 6897 | 2299 |
| JMIR Publications Inc. | 2 | 5389 | 2694 |
| MDPI AG | 2 | 2798 | 1399 |
| Ovid Technologies (Wolters Kluwer Health) | 2 | 3164 | 1582 |
| Royal Society of Chemistry (RSC) | 2 | 1392 | 696 |
| Wiley-Blackwell | 2 | 3701 | 1850 |
| AIP Publishing | 1 | 1487 | 1487 |
| Hindawi Publishing Corporation | 1 | 2149 | 2149 |
| International Scientific Information, Inc. | 1 | 1136 | 1136 |
| IOP Publishing | 1 | 1392 | 1392 |
| Optical Society of America (OSA) | 1 | 2178 | 2178 |
| Scientific Research Publishing, Inc, | 1 | 687 | 687 |
Overview
With the recent contribution included, the overall APC data for Duisburg-Essen now looks as follows:
Fees paid per publisher (in EURO)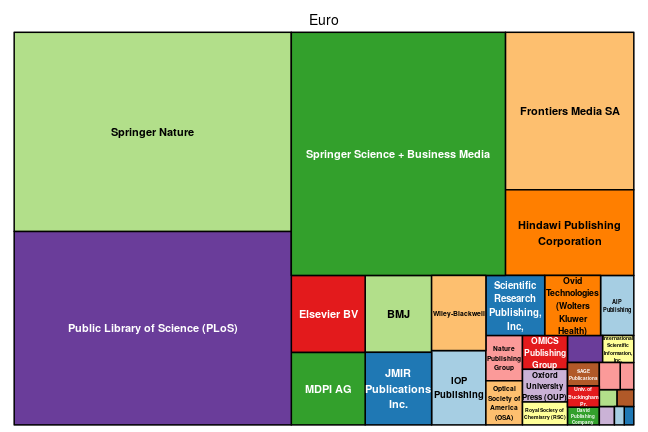 Average costs per year (in EURO)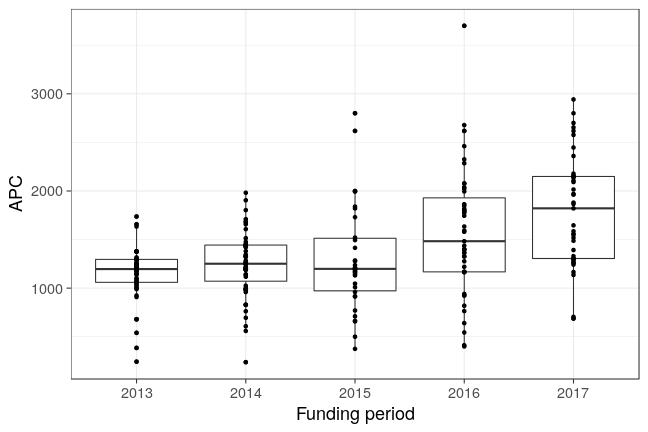 Average costs per publisher (in EURO)