The FWF (Austrian Science fund) has updated its APC expenditures, the latest contribution provides data for the 2017 period.
Contact person is Katharina Rieck.
Cost Data
The new dataset covers publication fees for 960 articles. Total expenditure amounts to 2 253 919€ and the average fee is 2 348€.
The following table shows the payments the FWF has made to publishers in 2017 (including taxes and discounts).
|   | Articles | Fees paid in EURO | Mean Fee paid |
| --- | --- | --- | --- |
| Elsevier BV | 169 | 452205 | 2676 |
| Springer Nature | 137 | 277201 | 2023 |
| Wiley-Blackwell | 97 | 316599 | 3264 |
| Informa UK Limited | 75 | 128395 | 1712 |
| American Chemical Society (ACS) | 67 | 193894 | 2894 |
| Frontiers Media SA | 55 | 124628 | 2266 |
| IOP Publishing | 54 | 131447 | 2434 |
| Public Library of Science (PLoS) | 43 | 69835 | 1624 |
| Oxford University Press (OUP) | 27 | 66611 | 2467 |
| MDPI AG | 19 | 25163 | 1324 |
| Royal Society of Chemistry (RSC) | 17 | 19232 | 1131 |
| American Physical Society (APS) | 15 | 32255 | 2150 |
| Impact Journals, LLC | 14 | 39920 | 2851 |
| Optical Society of America (OSA) | 13 | 24638 | 1895 |
| Copernicus GmbH | 11 | 15815 | 1438 |
| AIP Publishing | 10 | 18189 | 1819 |
| American Society for Biochemistry & Molecular Biology (ASBMB) | 10 | 23997 | 2400 |
| International Union of Crystallography (IUCr) | 8 | 10193 | 1274 |
| American Geophysical Union (AGU) | 7 | 23472 | 3353 |
| American Meteorological Society | 7 | 16047 | 2292 |
| Ovid Technologies (Wolters Kluwer Health) | 7 | 21999 | 3143 |
| Proceedings of the National Academy of Sciences | 6 | 11220 | 1870 |
| American Association for the Advancement of Science (AAAS) | 5 | 18388 | 3678 |
| Institute of Electrical & Electronics Engineers (IEEE) | 4 | 6872 | 1718 |
| PeerJ | 4 | 3212 | 803 |
| American Society for Clinical Investigation | 3 | 13609 | 4536 |
| American Society for Microbiology | 3 | 8135 | 2712 |
| Canadian Science Publishing | 3 | 9818 | 3273 |
| Geological Society of America | 3 | 7999 | 2666 |
| Hindawi Publishing Corporation | 3 | 5842 | 1947 |
| Inderscience Publishers | 3 | 4500 | 1500 |
| MyJove Corporation | 3 | 12813 | 4271 |
| Rockefeller University Press | 3 | 9556 | 3185 |
| SAGE Publications | 3 | 2034 | 678 |
| The Company of Biologists | 3 | 11361 | 3787 |
| The Royal Society | 3 | 7752 | 2584 |
| American Society of Plant Biologists (ASPB) | 2 | 6845 | 3422 |
| eLife Sciences Organisation, Ltd. | 2 | 4711 | 2356 |
| Mary Ann Liebert Inc | 2 | 8329 | 4164 |
| MIT Press - Journals | 2 | 2319 | 1160 |
| S. Karger AG | 2 | 4165 | 2082 |
| The American Association of Immunologists | 2 | 7168 | 3584 |
| Walter de Gruyter GmbH | 2 | 3900 | 1950 |
| World Scientific Pub Co Pte Lt | 2 | 3111 | 1555 |
| Acoustical Society of America (ASA) | 1 | 3759 | 3759 |
| American Institute of Mathematical Sciences (AIMS) | 1 | 698 | 698 |
| American Society for Cell Biology (ASCB) | 1 | 1542 | 1542 |
| Baishideng Publishing Group Inc. | 1 | 2119 | 2119 |
| Berghahn Books | 1 | 1366 | 1366 |
| BMJ | 1 | 3065 | 3065 |
| Brepols Publishers NV | 1 | 1740 | 1740 |
| Brill Academic Publishers | 1 | 1995 | 1995 |
| Carl Hanser Verlag | 1 | 2117 | 2117 |
| Cold Spring Harbor Laboratory Press | 1 | 2242 | 2242 |
| EDP Sciences | 1 | 840 | 840 |
| Elmer Press, Inc. | 1 | 507 | 507 |
| Ferrata Storti Foundation (Haematologica) | 1 | 1920 | 1920 |
| Genetics Society of America | 1 | 2330 | 2330 |
| Georg Thieme Verlag KG | 1 | 1500 | 1500 |
| HERDER | 1 | 960 | 960 |
| Hogrefe Publishing Group | 1 | 3000 | 3000 |
| Institution of Engineering and Technology (IET) | 1 | 1436 | 1436 |
| IOS Press | 1 | 2220 | 2220 |
| Mattersburger Kreis | 1 | 600 | 600 |
| Microbiology Society | 1 | 3230 | 3230 |
| Österreichische Gesellschaft für Entomofaunistik | 1 | 900 | 900 |
| PEETERS | 1 | 763 | 763 |
| Pensoft Publishers | 1 | 468 | 468 |
| Portland Press Ltd. | 1 | 2640 | 2640 |
| Scientific Research Publishing, Inc, | 1 | 584 | 584 |
| Society for Industrial & Applied Mathematics (SIAM) | 1 | 2716 | 2716 |
| SPIE-Intl Soc Optical Eng | 1 | 822 | 822 |
| Trans Tech Publications | 1 | 250 | 250 |
| Verein zur Forderung des Open Access Publizierens in den Quantenwissenschaften | 1 | 200 | 200 |
With the recent contributions included, the overall APC data for the FWF now looks as follows:
Fees paid per publisher (in EURO)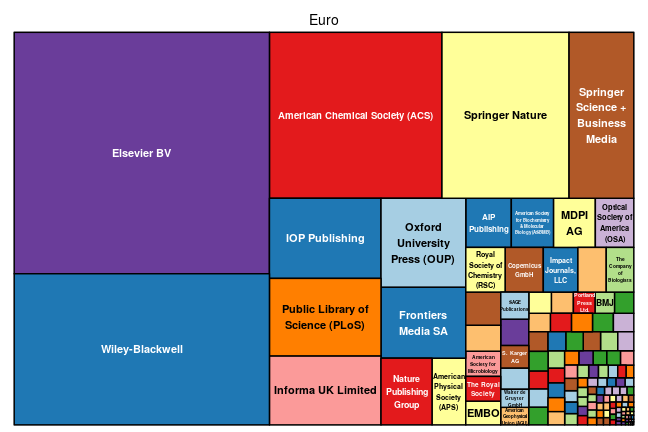 Average costs per year (in EURO)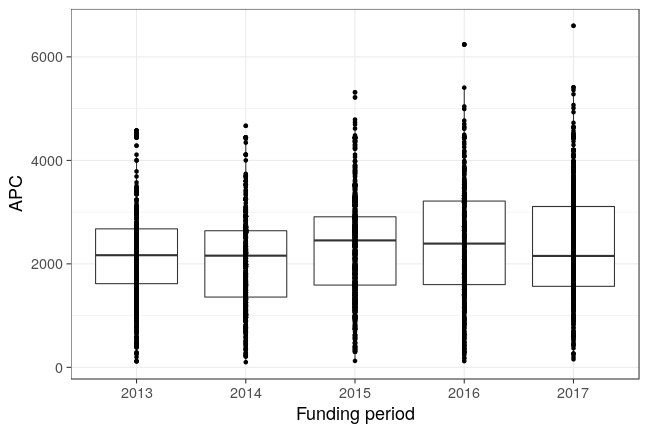 Average costs per publisher (in EURO)