The Couperin consortium collects data on APC expenditures from universities and other research institutions in France. A first batch of data has now been kindly made available to OpenAPC, more is to follow soon.
Contact Person for Couperin is Thomas Porquet.
Cost data
The initial data set provided by Couperin covers publication fees for 695 articles published in 2015. Total expenditure amounts to 1 173 258€ and the average fee is 1 688€.
The data originates from these 10 institutions (Have a look at the treemaps site for institutional details):
Aix-Marseille Université
Université de Bourgogne
Hospices Civils de Lyon
Institut national de recherche en informatique et en automatique (INRIA)
Institut national de la santé et de la recherche médicale (INSERM)
Université Lille 1
Université Lille 2
Université de Rennes 1
Université de Toulon
Université Pierre et Marie Curie (Paris VI)
|   | Articles | Fees paid in EURO | Mean Fee paid |
| --- | --- | --- | --- |
| Public Library of Science (PLoS) | 157 | 208975 | 1331 |
| Springer Nature | 157 | 298725 | 1903 |
| Frontiers Media SA | 84 | 94433 | 1124 |
| Elsevier BV | 53 | 118950 | 2244 |
| Impact Journals, LLC | 34 | 82237 | 2419 |
| Wiley-Blackwell | 30 | 61742 | 2058 |
| Oxford University Press (OUP) | 20 | 43867 | 2193 |
| Hindawi Publishing Corporation | 15 | 19343 | 1290 |
| MDPI AG | 15 | 17380 | 1159 |
| Ovid Technologies (Wolters Kluwer Health) | 15 | 24828 | 1655 |
| BMJ | 13 | 35270 | 2713 |
| Informa UK Limited | 12 | 10846 | 904 |
| IOP Publishing | 10 | 16440 | 1644 |
| OMICS Publishing Group | 7 | 10552 | 1507 |
| American Society for Clinical Investigation | 6 | 21509 | 3585 |
| American Meteorological Society | 4 | 9588 | 2397 |
| EMBO | 4 | 11850 | 2962 |
| IOS Press | 4 | 4980 | 1245 |
| Optical Society of America (OSA) | 4 | 8234 | 2058 |
| American Society for Microbiology | 3 | 6027 | 2009 |
| Copernicus GmbH | 3 | 4944 | 1648 |
| Ferrata Storti Foundation (Haematologica) | 3 | 4500 | 1500 |
| Institute of Electrical & Electronics Engineers (IEEE) | 3 | 3638 | 1213 |
| MyJove Corporation | 3 | 9156 | 3052 |
| American Society for Biochemistry & Molecular Biology (ASBMB) | 2 | 2485 | 1242 |
| e-Century Publishing Corporation | 2 | 2464 | 1232 |
| Ivyspring International Publisher | 2 | 2375 | 1187 |
| Scientific Research Publishing, Inc, | 2 | 1725 | 862 |
| Society for Neuroscience | 2 | 2816 | 1408 |
| Spandidos Publications | 2 | 3153 | 1576 |
| The Company of Biologists | 2 | 5500 | 2750 |
| AIP Publishing | 1 | 1215 | 1215 |
| American Association for the Advancement of Science (AAAS) | 1 | 1365 | 1365 |
| American Physical Society (APS) | 1 | 1553 | 1553 |
| Baishideng Publishing Group Inc. | 1 | 1700 | 1700 |
| BioScientifica | 1 | 984 | 984 |
| Cambridge University Press (CUP) | 1 | 1000 | 1000 |
| Center for Advanced Research | 1 | 3150 | 3150 |
| Dove Medical Press Ltd. | 1 | 1843 | 1843 |
| EDP Sciences | 1 | 900 | 900 |
| EMW Publishing | 1 | 400 | 400 |
| JMIR Publications Inc. | 1 | 1686 | 1686 |
| Journal of Infection in Developing Countries | 1 | 202 | 202 |
| Jscholar | 1 | 752 | 752 |
| Mary Ann Liebert Inc | 1 | 1068 | 1068 |
| Medknow | 1 | 495 | 495 |
| Microbiology Society | 1 | 416 | 416 |
| Peertechz Publications Private Limited | 1 | 1549 | 1549 |
| Portland Press Ltd. | 1 | 775 | 775 |
| Proceedings of the National Academy of Sciences | 1 | 2350 | 2350 |
| SAGE Publications | 1 | 335 | 335 |
| Science Publishing Group | 1 | 247 | 247 |
| The Endocrine Society | 1 | 741 | 741 |
Overview
A detailed analysis of the contributed data provides the following overview:
Fees paid per publisher (in EURO)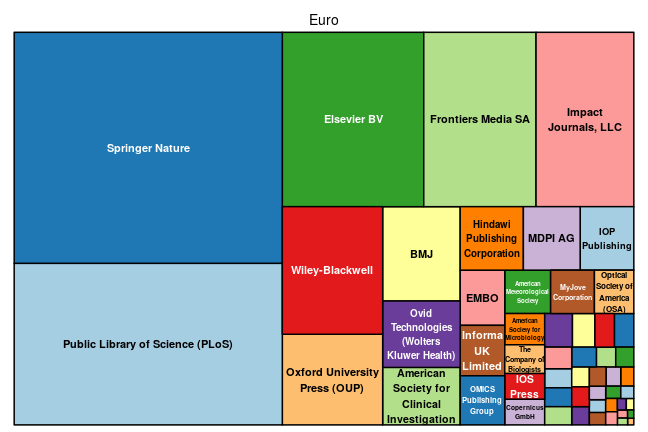 Average costs per publisher (in EURO)