Our partner project OpenAPC Sweden collects APC data from institutions in Sweden.
New articles ingested after our first exchange in 2017 have now been added to OpenAPC as well.
Cost data
The ingested data covers publication fees for 2,770 articles published by Swedish institutions (This includes all articles already imported in September 2017). Total expenditure amounts to 4 737 102€ and the average fee is 1 710€.
Note that OpenAPC did neither include articles already present in its offsetting data collection nor articles with a cost of 0€, so the net intake is lower than what might be expected.
The following table and plots show a breakdown of the payments.
Overview
|   | Articles | Fees paid in EURO | Mean Fee paid |
| --- | --- | --- | --- |
| Springer Nature | 506 | 853246 | 1686 |
| Elsevier BV | 349 | 763646 | 2188 |
| Informa UK Limited | 301 | 495012 | 1645 |
| Wiley-Blackwell | 275 | 665622 | 2420 |
| Public Library of Science (PLoS) | 243 | 329956 | 1358 |
| MDPI AG | 172 | 184352 | 1072 |
| Frontiers Media SA | 121 | 203233 | 1680 |
| Copernicus GmbH | 83 | 103808 | 1251 |
| Oxford University Press (OUP) | 72 | 146895 | 2040 |
| Royal Society of Chemistry (RSC) | 71 | 111076 | 1564 |
| Springer Science + Business Media | 58 | 98118 | 1692 |
| American Chemical Society (ACS) | 55 | 77131 | 1402 |
| Hindawi Publishing Corporation | 50 | 29475 | 589 |
| SAGE Publications | 34 | 53104 | 1562 |
| IOP Publishing | 30 | 55601 | 1853 |
| BMJ | 20 | 37874 | 1894 |
| S. Karger AG | 18 | 17048 | 947 |
| American Geophysical Union (AGU) | 16 | 40880 | 2555 |
| Dove Medical Press Ltd. | 16 | 28718 | 1795 |
| Scientific Research Publishing, Inc, | 15 | 12526 | 835 |
| AIP Publishing | 13 | 20999 | 1615 |
| Resilience Alliance, Inc. | 13 | 12015 | 924 |
| Institute of Electrical & Electronics Engineers (IEEE) | 12 | 16702 | 1392 |
| American Association for the Advancement of Science (AAAS) | 10 | 28680 | 2868 |
| Cambridge University Press (CUP) | 10 | 23146 | 2315 |
| American Meteorological Society | 9 | 19086 | 2121 |
| Impact Journals, LLC | 9 | 23517 | 2613 |
| Proceedings of the National Academy of Sciences | 9 | 20438 | 2271 |
| Walter de Gruyter GmbH | 9 | 13075 | 1453 |
| OMICS Publishing Group | 8 | 6758 | 845 |
| American Physical Society (APS) | 7 | 13171 | 1882 |
| Ovid Technologies (Wolters Kluwer Health) | 7 | 10045 | 1435 |
| The Royal Society | 7 | 14332 | 2047 |
| American Dairy Science Association | 6 | 11951 | 1992 |
| The Company of Biologists | 6 | 17146 | 2858 |
| American Society of Plant Biologists (ASPB) | 5 | 11556 | 2311 |
| Pensoft Publishers | 5 | 2678 | 536 |
| Acta Dermato-Venereologica | 4 | 4041 | 1010 |
| American Society for Microbiology | 4 | 9066 | 2266 |
| Genetics Society of America | 4 | 7045 | 1761 |
| JMIR Publications Inc. | 4 | 7059 | 1765 |
| Sciedu Press | 4 | 1198 | 299 |
| The Electrochemical Society | 4 | 2700 | 675 |
| Wageningen Academic Publishers | 4 | 6650 | 1662 |
| David Publishing Company | 3 | 3400 | 1133 |
| EMBO | 3 | 11343 | 3781 |
| Emerald | 3 | 4191 | 1397 |
| Geological Society of London | 3 | 5319 | 1773 |
| SPIE-Intl Soc Optical Eng | 3 | 2033 | 678 |
| Academic Journals | 2 | 590 | 295 |
| American Psychological Association (APA) | 2 | 5400 | 2700 |
| Bentham Science Publishers Ltd. | 2 | 1452 | 726 |
| Brill | 2 | 2660 | 1330 |
| Cogitatio | 2 | 1727 | 864 |
| Gavin Publishers | 2 | 2646 | 1323 |
| Inter-Research Science Center | 2 | 2900 | 1450 |
| International Union of Crystallography (IUCr) | 2 | 1971 | 986 |
| John Benjamins Publishing Company | 2 | 3400 | 1700 |
| Mary Ann Liebert Inc | 2 | 5034 | 2517 |
| MDPI | 2 | 1584 | 792 |
| Optical Society of America (OSA) | 2 | 3277 | 1638 |
| Scandinavian Journal of Work, Environment and Health | 2 | 3500 | 1750 |
| Society for Sociological Science | 2 | 1109 | 554 |
| Taylor & Francis | 2 | 1844 | 922 |
| Trans Tech Publications | 2 | 480 | 240 |
| Academic Conferences and Publishing International | 1 | 276 | 276 |
| Acoustical Society of America (ASA) | 1 | 1780 | 1780 |
| American Association for Cancer Research (AACR) | 1 | 2641 | 2641 |
| American Society for Biochemistry & Molecular Biology (ASBMB) | 1 | 3404 | 3404 |
| American Society for Clinical Investigation | 1 | 2629 | 2629 |
| American Society of Civil Engineers (ASCE) | 1 | 1397 | 1397 |
| American Society of Clinical Oncology (ASCO) | 1 | 3095 | 3095 |
| American Society of Nephrology (ASN) | 1 | 650 | 650 |
| American Speech Language Hearing Association | 1 | 2174 | 2174 |
| Annex Publishers, LLC | 1 | 611 | 611 |
| Association for Research in Vision and Ophthalmology (ARVO) | 1 | 1219 | 1219 |
| Baishideng Publishing Group Inc. | 1 | 1971 | 1971 |
| BioMed Central | 1 | 140 | 140 |
| BioResources | 1 | 931 | 931 |
| BioScientifica | 1 | 3950 | 3950 |
| Canadian Center of Science and Education | 1 | 265 | 265 |
| Canadian Science Publishing | 1 | 2833 | 2833 |
| Cappelen Damm AS - Cappelen Damm Akademisk | 1 | 668 | 668 |
| Cold Spring Harbor Laboratory Press | 1 | 2354 | 2354 |
| Crop Science Society of America | 1 | 890 | 890 |
| CSIRO Publishing | 1 | 2488 | 2488 |
| eLife Sciences Organisation, Ltd. | 1 | 2002 | 2002 |
| Elsevier | 1 | 270 | 270 |
| Graphyonline Publications PVT, Ltd. | 1 | 374 | 374 |
| Informa Healthcare | 1 | 3040 | 3040 |
| Intellect | 1 | 1140 | 1140 |
| IOS Press | 1 | 1250 | 1250 |
| IWA Publishing | 1 | 1562 | 1562 |
| Japan Society for Occupational Health | 1 | 266 | 266 |
| Magnolia Press | 1 | 270 | 270 |
| MIT Press - Journals | 1 | 1125 | 1125 |
| MyJove Corporation | 1 | 1578 | 1578 |
| Nature Publishing Group | 1 | 2400 | 2400 |
| Portland Press Ltd. | 1 | 652 | 652 |
| Redfame Publishing | 1 | 227 | 227 |
| Remedy Publications LLC. | 1 | 1620 | 1620 |
| Royal College of Psychiatrists | 1 | 1425 | 1425 |
| Scientific Research Publishing | 1 | 95 | 95 |
| Scitechnol Biosoft Pvt. Ltd. | 1 | 360 | 360 |
| Symbiosis Group | 1 | 646 | 646 |
| The Endocrine Society | 1 | 1009 | 1009 |
| Tresorix Ltd | 1 | 179 | 179 |
| Ubiquity Press, Ltd. | 1 | 413 | 413 |
| University of California Press | 1 | 1223 | 1223 |
| World Scientific Pub Co Pte Lt | 1 | 1379 | 1379 |
Fees paid per publisher (in EURO)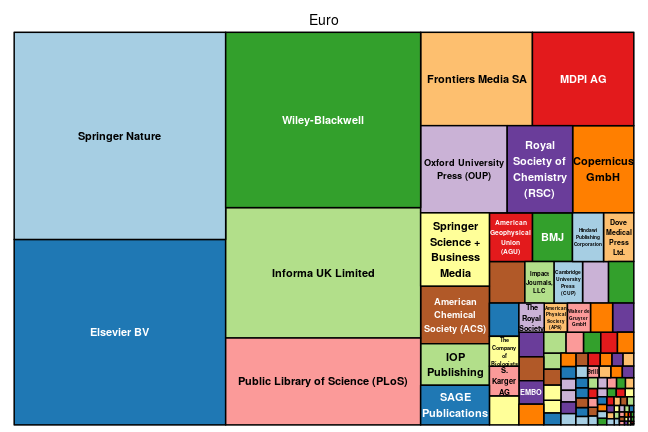 Average costs per year (in EURO)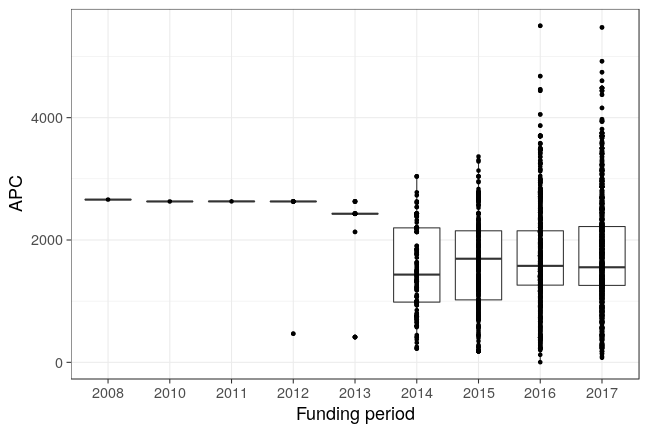 Average costs per publisher (in EURO)