We welcome the Indiana University - Purdue University Indianapolis (IUPUI) as new contributing institution!
The IUPUI University Library operates the University's Open Access Fund, which underwrites publication fees for articles published in eligible open access journals.
Contact Person is Jere Odell.
Cost data
The initial dataset provided by the IUPUI covers publication fees for 116 articles published from 2013 to 2018. Total expenditure amounts to 169 618€ and the average fee is 1 462€.
|   | Articles | Fees paid in EURO | Mean Fee paid |
| --- | --- | --- | --- |
| Public Library of Science (PLoS) | 29 | 35053 | 1209 |
| Springer Nature | 28 | 49214 | 1758 |
| Wiley-Blackwell | 8 | 13515 | 1689 |
| Hindawi Publishing Corporation | 7 | 9112 | 1302 |
| JMIR Publications Inc. | 7 | 12245 | 1749 |
| Elsevier BV | 6 | 12023 | 2004 |
| MDPI AG | 6 | 5002 | 834 |
| Frontiers Media SA | 5 | 7837 | 1567 |
| Dove Medical Press Ltd. | 3 | 5223 | 1741 |
| Association for Research in Vision and Ophthalmology (ARVO) | 2 | 3010 | 1505 |
| PeerJ | 2 | 1056 | 528 |
| Springer Science + Business Media | 2 | 3148 | 1574 |
| AIP Publishing | 1 | 1208 | 1208 |
| American Association for the Advancement of Science (AAAS) | 1 | 2759 | 2759 |
| BMJ | 1 | 1490 | 1490 |
| Cogitatio | 1 | 905 | 905 |
| Georg Thieme Verlag KG | 1 | 1561 | 1561 |
| Informa UK Limited | 1 | 417 | 417 |
| IOP Publishing | 1 | 1175 | 1175 |
| JScholar | 1 | 664 | 664 |
| Ovid Technologies (Wolters Kluwer Health) | 1 | 1101 | 1101 |
| SAGE Publications | 1 | 1623 | 1623 |
| Sciedu Press | 1 | 277 | 277 |
Overview
A detailed analysis of the contributed data provides the following overview:
Fees paid per publisher (in EURO)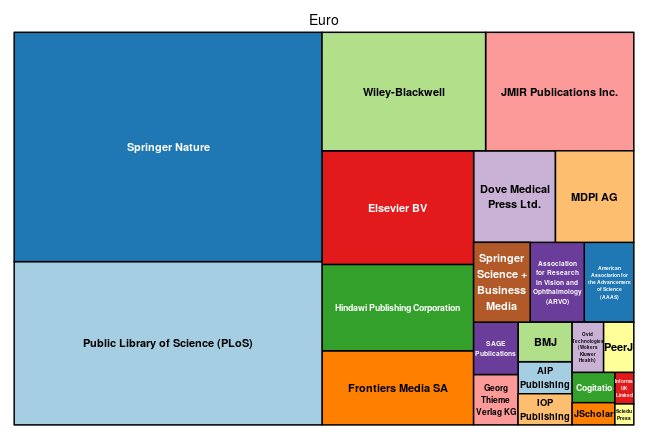 Average costs per publisher (in EURO)