The Couperin consortium collects data on APC expenditures from universities and other research institutions in France. The next batch of data has now been made available to OpenAPC, containing articles for 3 more institutions.
Contact Persons for Couperin are Valerie Larroque and Sandrine Malotaux.
Cost data
The new data set provided by Couperin covers publication fees for 174 articles published in 2015 and 2017. Total expenditure amounts to 300 448€ and the average fee is 1 727€.
The data originates from the ESPCI Paris, the Université Toulouse III and INRA.
|   | Articles | Fees paid in EURO | Mean Fee paid |
| --- | --- | --- | --- |
| Springer Nature | 53 | 95215 | 1797 |
| Frontiers Media SA | 36 | 63154 | 1754 |
| Public Library of Science (PLoS) | 33 | 47811 | 1449 |
| Wiley-Blackwell | 10 | 25829 | 2583 |
| MDPI AG | 8 | 7929 | 991 |
| Elsevier BV | 7 | 14995 | 2142 |
| Oxford University Press (OUP) | 5 | 9322 | 1864 |
| American Society for Microbiology | 4 | 4091 | 1023 |
| American Society of Plant Biologists (ASPB) | 4 | 8165 | 2041 |
| Copernicus GmbH | 4 | 4845 | 1211 |
| The Company of Biologists | 3 | 9225 | 3075 |
| American Society for Biochemistry & Molecular Biology (ASBMB) | 1 | 1350 | 1350 |
| EDP Sciences | 1 | 900 | 900 |
| Pensoft Publishers | 1 | 300 | 300 |
| Royal Society of Chemistry (RSC) | 1 | 592 | 592 |
| S. Karger AG | 1 | 3559 | 3559 |
| Scientific Research Publishing, Inc, | 1 | 1127 | 1127 |
| The Royal Society | 1 | 2040 | 2040 |
Overview
A detailed analysis of the contributed data provides the following overview:
Fees paid per publisher (in EURO)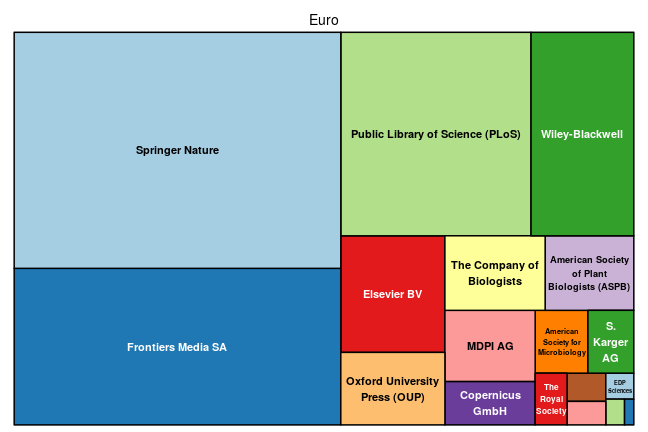 Average costs per publisher (in EURO)