We welcome the Charité – Universitätsmedizin Berlin as new contributing institution!
The Charité Medical Library is in charge of the institution's Open Access Publication Funds, which is receiving support by the Deutsche Forschungsgemeinschaft (DFG) under its Open-Access Publishing Programme.
Contact Person is Steffi Grimm.
Cost data
The initial data set provided by the Charité Medical Library covers publication fees for 232 articles published in 2018. Total expenditure amounts to 381 125€ and the average fee is 1 643€.
|   | Articles | Fees paid in EURO | Mean Fee paid |
| --- | --- | --- | --- |
| Frontiers Media SA | 72 | 132198 | 1836 |
| Springer Nature | 50 | 81537 | 1631 |
| Public Library of Science (PLoS) | 36 | 54761 | 1521 |
| MDPI AG | 17 | 25091 | 1476 |
| BMJ | 10 | 16169 | 1617 |
| Wiley-Blackwell | 7 | 12009 | 1716 |
| Elsevier BV | 6 | 10236 | 1706 |
| Hindawi Publishing Corporation | 6 | 8092 | 1349 |
| Dove Medical Press Ltd. | 4 | 7468 | 1867 |
| Ivyspring International Publisher | 3 | 3296 | 1099 |
| SAGE Publications | 3 | 2816 | 939 |
| American Society for Microbiology | 2 | 3421 | 1711 |
| Impact Journals, LLC | 2 | 4083 | 2042 |
| JMIR Publications Inc. | 2 | 3312 | 1656 |
| Oxford University Press (OUP) | 2 | 3427 | 1714 |
| S. Karger AG | 2 | 2812 | 1406 |
| Association for Research in Vision and Ophthalmology (ARVO) | 1 | 1929 | 1929 |
| eLife Sciences Publications, Ltd | 1 | 1916 | 1916 |
| Informa UK Limited | 1 | 1919 | 1919 |
| International Scientific Information, Inc. | 1 | 1002 | 1002 |
| Optical Society of America (OSA) | 1 | 1703 | 1703 |
| Ovid Technologies (Wolters Kluwer Health) | 1 | 505 | 505 |
| Pan African Medical Journal | 1 | 184 | 184 |
| PeerJ | 1 | 1237 | 1237 |
Fees paid per publisher (in EURO)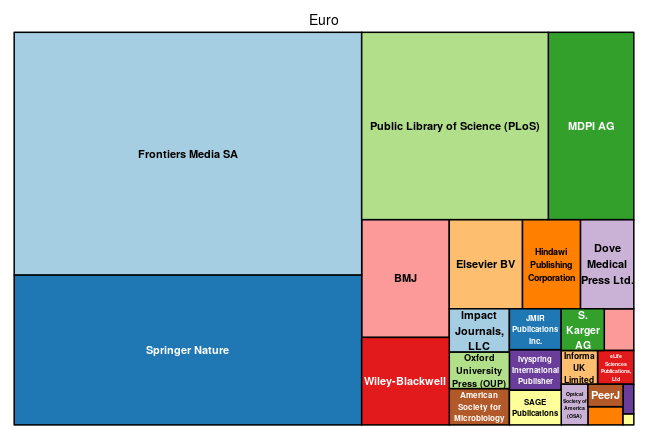 Average costs per publisher (in EURO)