In 2014 the Wellcome Trust started to make APC expenditures of the COAF publicly available. The most recent data set has now been processed and added to OpenAPC's data collection.
About the data set
The data set contributed by the Wellcome Trust contains information on publication fees covering a time span from October 2017 to September 2018 (OpenAPC treats this data as having all been processed in the 2017 period).
Cost Data
The new data set covers publication fees for 2,283 articles. Total expenditure amounts to 6 399 380€ and the average fee is 2 803€.
The following table shows the payments COAF has made to publishers in 2018 (including taxes and discounts).
|   | Articles | Fees paid in EURO | Mean Fee paid |
| --- | --- | --- | --- |
| Elsevier BV | 551 | 1987622 | 3607 |
| Springer Nature | 388 | 970010 | 2500 |
| Wiley-Blackwell | 202 | 511778 | 2534 |
| Oxford University Press (OUP) | 153 | 385205 | 2518 |
| BMJ | 105 | 247698 | 2359 |
| Public Library of Science (PLoS) | 94 | 174876 | 1860 |
| Ovid Technologies (Wolters Kluwer Health) | 82 | 323175 | 3941 |
| Frontiers Media SA | 73 | 167446 | 2294 |
| Informa UK Limited | 48 | 72013 | 1500 |
| American Chemical Society (ACS) | 37 | 115417 | 3119 |
| SAGE Publications | 35 | 38368 | 1096 |
| The Company of Biologists | 32 | 109082 | 3409 |
| eLife Sciences Publications, Ltd | 30 | 76094 | 2536 |
| American Society for Microbiology | 27 | 75070 | 2780 |
| Royal Society of Chemistry (RSC) | 26 | 45827 | 1763 |
| Cambridge University Press (CUP) | 25 | 63211 | 2528 |
| American Society for Biochemistry & Molecular Biology (ASBMB) | 20 | 41514 | 2076 |
| EMBO | 20 | 71010 | 3550 |
| Society for Neuroscience | 20 | 62974 | 3149 |
| The Royal Society | 20 | 39494 | 1975 |
| American Medical Association (AMA) | 18 | 81559 | 4531 |
| Impact Journals, LLC | 16 | 51415 | 3213 |
| IOP Publishing | 15 | 30832 | 2055 |
| MDPI AG | 15 | 20183 | 1346 |
| Portland Press Ltd. | 15 | 31271 | 2085 |
| American Physiological Society | 14 | 29769 | 2126 |
| Rockefeller University Press | 13 | 61158 | 4704 |
| American Society for Clinical Investigation | 12 | 46113 | 3843 |
| Mary Ann Liebert Inc | 11 | 35847 | 3259 |
| American Association for Cancer Research (AACR) | 10 | 35309 | 3531 |
| Royal College of Psychiatrists | 9 | 29165 | 3241 |
| The Endocrine Society | 9 | 28702 | 3189 |
| BioScientifica | 8 | 20419 | 2552 |
| FASEB | 8 | 24895 | 3112 |
| Microbiology Society | 8 | 12745 | 1593 |
| American Society of Clinical Oncology (ASCO) | 7 | 26450 | 3779 |
| American Psychological Association (APA) | 6 | 25224 | 4204 |
| S. Karger AG | 6 | 16148 | 2691 |
| Cold Spring Harbor Laboratory Press | 5 | 10802 | 2160 |
| Genetics Society of America | 5 | 8810 | 1762 |
| Georg Thieme Verlag KG | 5 | 13147 | 2629 |
| JMIR Publications Inc. | 5 | 12936 | 2587 |
| MIT Press - Journals | 5 | 7452 | 1490 |
| The American Association of Immunologists | 5 | 13872 | 2774 |
| European Respiratory Society (ERS) | 4 | 12146 | 3036 |
| Institute of Electrical & Electronics Engineers (IEEE) | 4 | 6973 | 1743 |
| International Union Against Tuberculosis and Lung Disease | 4 | 6550 | 1638 |
| MyJove Corporation | 4 | 12168 | 3042 |
| Optical Society of America (OSA) | 4 | 9955 | 2489 |
| Royal College of General Practitioners | 4 | 10850 | 2712 |
| American Society of Tropical Medicine and Hygiene | 3 | 7482 | 2494 |
| Association for Research in Vision and Ophthalmology (ARVO) | 3 | 4999 | 1666 |
| British Institute of Radiology | 3 | 8137 | 2712 |
| Hindawi Publishing Corporation | 3 | 3886 | 1295 |
| Society of Nuclear Medicine | 3 | 8624 | 2875 |
| American Association for the Advancement of Science (AAAS) | 2 | 9568 | 4784 |
| American Society of Hematology | 2 | 2378 | 1189 |
| Future Medicine Ltd | 2 | 4358 | 2179 |
| International Union of Crystallography (IUCr) | 2 | 2371 | 1185 |
| IOS Press | 2 | 4399 | 2200 |
| Project Muse | 2 | 5990 | 2995 |
| SPIE-Intl Soc Optical Eng | 2 | 1848 | 924 |
| Acoustical Society of America (ASA) | 1 | 430 | 430 |
| AIP Publishing | 1 | 2159 | 2159 |
| Akademiai Kiado Zrt. | 1 | 587 | 587 |
| American Physical Society (APS) | 1 | 1833 | 1833 |
| American Society for Pharmacology & Experimental Therapeutics (ASPET) | 1 | 2581 | 2581 |
| Bentham Science Publishers Ltd. | 1 | 3026 | 3026 |
| Brill | 1 | 2434 | 2434 |
| Ferrata Storti Foundation (Haematologica) | 1 | 966 | 966 |
| Ivyspring International Publisher | 1 | 1631 | 1631 |
| Life Science Alliance, LLC | 1 | 2506 | 2506 |
| Proceedings of the National Academy of Sciences | 1 | 4000 | 4000 |
| Walter de Gruyter GmbH | 1 | 2436 | 2436 |
Overview
With the recent contributions included, the overall APC data for the Wellcome Trust which has been added to OpenAPC up to this point looks as follows:
Fees paid per publisher (in EURO)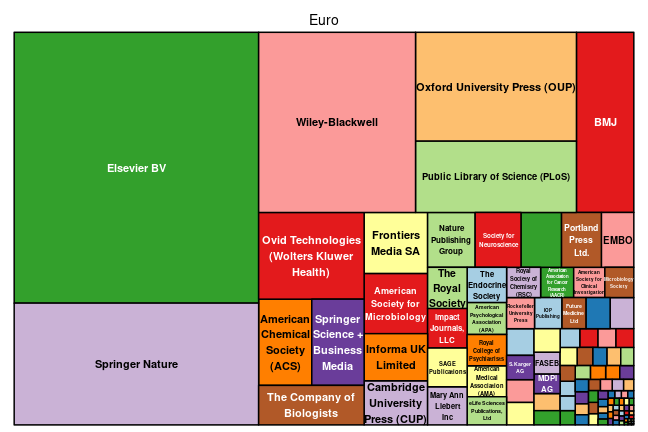 Average costs per year (in EURO)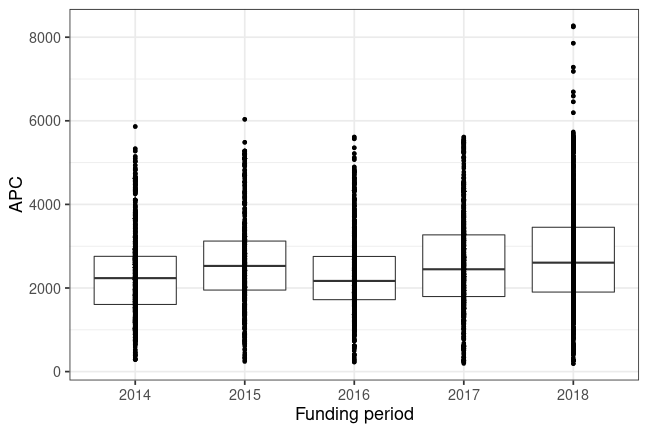 Average costs per publisher (in EURO)