We welcome Charles University as new contributing institution!
Charles University Library collected data on APCs paid for by faculties budgets at Charles University and has provided an initial data set to OpenAPC.
Contact Person is Tereza Simandlová.
Cost data
The initial data set covers publication fees for 489 articles published from 2016 to 2018. Total expenditure amounts to 717,366€ and the average fee is 1,467€.
|   | Articles | Fees paid in EURO | Mean Fee paid |
| --- | --- | --- | --- |
| Springer Nature | 96 | 174658 | 1819 |
| MDPI AG | 62 | 85528 | 1379 |
| Public Library of Science (PLoS) | 60 | 94696 | 1578 |
| Frontiers Media SA | 31 | 53170 | 1715 |
| Hindawi Publishing Corporation | 23 | 42104 | 1831 |
| Academia Scientiarum Bohemoslovaca | 20 | 12664 | 633 |
| Informa UK Limited | 19 | 33191 | 1747 |
| Maghira & Maas Publications | 17 | 20165 | 1186 |
| Palacky University Olomouc | 15 | 5728 | 382 |
| Wiley-Blackwell | 14 | 29395 | 2100 |
| Elsevier BV | 10 | 16382 | 1638 |
| Walter de Gruyter GmbH | 10 | 5170 | 517 |
| Pensoft Publishers | 8 | 4232 | 529 |
| Copernicus GmbH | 6 | 9361 | 1560 |
| Oxford University Press (OUP) | 6 | 12716 | 2119 |
| Termedia Sp. z.o.o. | 5 | 2155 | 431 |
| AIP Publishing | 4 | 6552 | 1638 |
| Ferrata Storti Foundation (Haematologica) | 4 | 4441 | 1110 |
| Impact Journals, LLC | 4 | 12840 | 3210 |
| S. Karger AG | 4 | 8773 | 2193 |
| SAGE Publications | 4 | 4767 | 1192 |
| Cambridge University Press (CUP) | 3 | 5789 | 1930 |
| Magnolia Press | 3 | 685 | 228 |
| Medical Science International | 3 | 4044 | 1348 |
| OMICS Publishing Group | 3 | 4925 | 1642 |
| PeerJ | 3 | 3479 | 1160 |
| Spandidos Publications | 3 | 4528 | 1509 |
| American Geophysical Union (AGU) | 2 | 2516 | 1258 |
| Ivyspring International Publisher | 2 | 3382 | 1691 |
| Masaryk University Press | 2 | 386 | 193 |
| Optical Society of America (OSA) | 2 | 3145 | 1572 |
| Ovid Technologies (Wolters Kluwer Health) | 2 | 5824 | 2912 |
| Royal Society of Chemistry (RSC) | 2 | 2600 | 1300 |
| The Company of Biologists | 2 | 2858 | 1429 |
| Zerbinis Medical Publications | 2 | 755 | 378 |
| American Meteorological Society | 1 | 1520 | 1520 |
| American Physiological Society | 1 | 885 | 885 |
| American Society for Microbiology | 1 | 1493 | 1493 |
| American Vacuum Society | 1 | 1178 | 1178 |
| Archives of Budo Science of Martial Arts and Extreme Sports | 1 | 288 | 288 |
| Association of Basic Medical Sciences of FBIH | 1 | 534 | 534 |
| Baishideng Publishing Group Inc. | 1 | 2721 | 2721 |
| BioScientifica | 1 | 355 | 355 |
| BMJ | 1 | 1816 | 1816 |
| Cogitatio | 1 | 900 | 900 |
| e-Century Publishing Corporation | 1 | 1829 | 1829 |
| E.S. Burioni ricerche bibliografiche | 1 | 2363 | 2363 |
| Editorial Committee of Annals of Thoracic and Cardiovascular Surgery | 1 | 774 | 774 |
| EDP Sciences | 1 | 1089 | 1089 |
| Georg Thieme Verlag KG | 1 | 1938 | 1938 |
| Institute of Animal Reproduction and Food Research of the Polish Academy of Sciences | 1 | 363 | 363 |
| Inter-Research Science Center | 1 | 1633 | 1633 |
| International Institute of Anticancer Research | 1 | 590 | 590 |
| International Scientific Information, Inc. | 1 | 2046 | 2046 |
| IOP Publishing | 1 | 2469 | 2469 |
| Jihoèeská univerzita v Èeských Budìjovicích | 1 | 19 | 19 |
| Mary Ann Liebert Inc | 1 | 1064 | 1064 |
| Mediterranean Council for Burns and Fire Disasters | 1 | 306 | 306 |
| Medknow | 1 | 491 | 491 |
| Polskie Towarzystwo Farmaceutyczne | 1 | 306 | 306 |
| Proceedings of the National Academy of Sciences | 1 | 1101 | 1101 |
| Sci Forschen, Inc. | 1 | 822 | 822 |
| Scientia Socialis | 1 | 195 | 195 |
| Universidad de Alicante Servicio de Publicaciones | 1 | 249 | 249 |
| University of Uludag | 1 | 1475 | 1475 |
| Univerzita Karlova, 1. lékaøská fakulta | 1 | 433 | 433 |
| Wroclaw Medical University | 1 | 363 | 363 |
| Wydawnictwo Adam Marszalek | 1 | 155 | 155 |
Overview
A detailed analysis of the contributed data provides the following overview:
Fees paid per publisher (in EURO)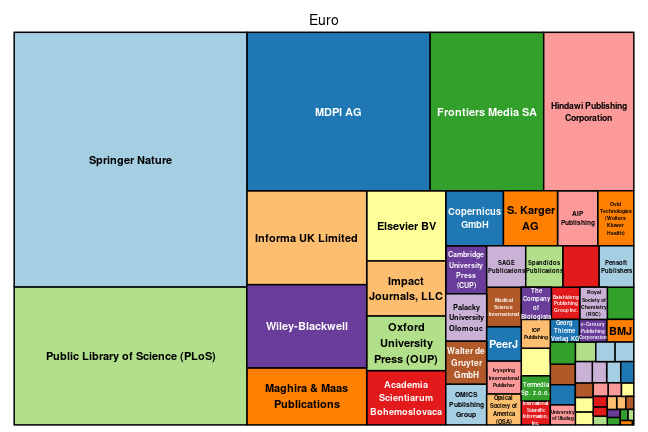 Average costs per year (in EURO)
Average costs per publisher (in EURO)