Tampere University has updated its APC expenditures, the recent contribution provides the remaining articles for 2019.
Tampere University Library collects data on institutional APC spendings.
Contact Person is Sari Leppänen.
Cost data
The new data set covers publication fees for 112 articles published in the second half of 2019. Total expenditure amounts to 180,246€ and the average fee is 1,609€.
|   | Articles | Fees paid in EURO | Mean Fee paid |
| --- | --- | --- | --- |
| MDPI AG | 36 | 42545 | 1182 |
| Springer Nature | 32 | 55680 | 1740 |
| Elsevier BV | 28 | 38618 | 1379 |
| Informa UK Limited | 16 | 35869 | 2242 |
| IEEE | 11 | 18350 | 1668 |
| Wiley-Blackwell | 10 | 22253 | 2225 |
| Optical Society of America (OSA) | 8 | 14527 | 1816 |
| Public Library of Science (PLoS) | 7 | 11612 | 1659 |
| SAGE Publications | 7 | 3923 | 560 |
| BMJ | 6 | 12961 | 2160 |
| Frontiers Media SA | 5 | 11749 | 2350 |
| Oxford University Press (OUP) | 5 | 12074 | 2415 |
| Hindawi Publishing Corporation | 4 | 6503 | 1626 |
| Aarhus University Library | 2 | 530 | 265 |
| IOP Publishing | 2 | 4200 | 2100 |
| AIP Publishing | 1 | 3176 | 3176 |
| ALTEX Edition | 1 | 2000 | 2000 |
| American Association for Cancer Research (AACR) | 1 | 3500 | 3500 |
| American Society for Biochemistry & Molecular Biology (ASBMB) | 1 | 3068 | 3068 |
| American Society for Microbiology | 1 | 3088 | 3088 |
| American Thoracic Society | 1 | 931 | 931 |
| Copernicus GmbH | 1 | 1694 | 1694 |
| Emerald | 1 | 2364 | 2364 |
| European Cells and Materials | 1 | 921 | 921 |
| Genetics Society of America | 1 | 1929 | 1929 |
| IOS Press | 1 | 1250 | 1250 |
| Jiménez-Godoy, S.A. | 1 | 1000 | 1000 |
| Mary Ann Liebert Inc | 1 | 1077 | 1077 |
| Nordic Journal of Science and Technology Studies | 1 | 577 | 577 |
| Philosophy Documentation Center | 1 | 949 | 949 |
| Symbiosis Group | 1 | 755 | 755 |
| Taiwan Association for Aerosol Research | 1 | 274 | 274 |
| The Company of Biologists | 1 | 1200 | 1200 |
| Walter de Gruyter GmbH | 1 | 100 | 100 |
Overview
With the recent contribution included, the overall APC data for Tampere now looks as follows:
Fees paid per publisher (in EURO)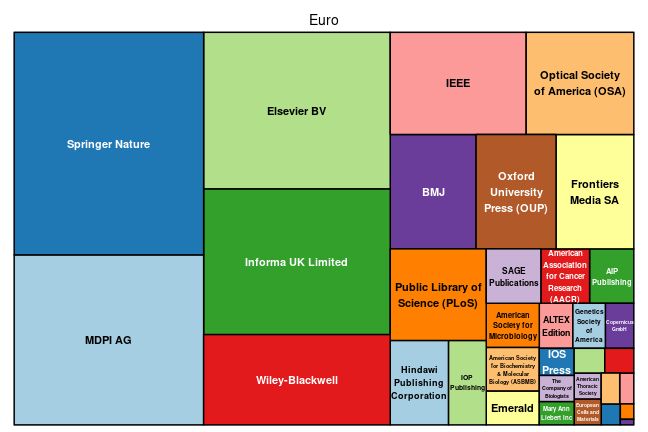 Average costs per publisher (in EURO)