The Charité – Universitätsmedizin Berlin has updated its APC expenditures, providing data for the 2019 period.
The Charité Medical Library is in charge of the institution's Open Access Publication Funds, which is receiving support by the Deutsche Forschungsgemeinschaft (DFG) under its Open-Access Publishing Programme.
Contact Person is Jenny Delasalle.
Cost data
The new data set covers publication fees for 367 articles. Total expenditure amounts to 615 560€ and the average fee is 1 677€.
The following table shows the payments the Charité has made to publishers in 2019.
|   | Articles | Fees paid in EURO | Mean Fee paid |
| --- | --- | --- | --- |
| Frontiers Media SA | 108 | 209183 | 1937 |
| Springer Nature | 99 | 170866 | 1726 |
| MDPI AG | 71 | 95094 | 1339 |
| Public Library of Science (PLoS) | 24 | 39382 | 1641 |
| BMJ | 12 | 18215 | 1518 |
| Elsevier BV | 7 | 12026 | 1718 |
| Informa UK Limited | 6 | 9777 | 1630 |
| JMIR Publications Inc. | 6 | 11252 | 1875 |
| Oxford University Press (OUP) | 6 | 8907 | 1485 |
| Hindawi Publishing Corporation | 3 | 3534 | 1178 |
| Ivyspring International Publisher | 3 | 5302 | 1767 |
| SAGE Publications | 3 | 3496 | 1165 |
| Cell Physiol Biochem Press GmbH and Co KG | 2 | 3570 | 1785 |
| Ovid Technologies (Wolters Kluwer Health) | 2 | 3750 | 1875 |
| AEPress, s.r.o. | 1 | 416 | 416 |
| ALTEX Edition | 1 | 1999 | 1999 |
| AME Publishing Company | 1 | 1485 | 1485 |
| American Society for Microbiology | 1 | 1589 | 1589 |
| E.U. European Publishing | 1 | 1999 | 1999 |
| European Cells and Materials | 1 | 1045 | 1045 |
| Future Medicine Ltd | 1 | 1547 | 1547 |
| Georg Thieme Verlag KG | 1 | 1785 | 1785 |
| International Global Health Society | 1 | 1652 | 1652 |
| International Scientific Information, Inc. | 1 | 1924 | 1924 |
| MAK Periodical Library | 1 | 1570 | 1570 |
| Optical Society of America (OSA) | 1 | 1764 | 1764 |
| Pan African Medical Journal | 1 | 192 | 192 |
| Termedia Sp. z.o.o. | 1 | 238 | 238 |
| Wiley-Blackwell | 1 | 1999 | 1999 |
Fees paid per publisher (in EURO)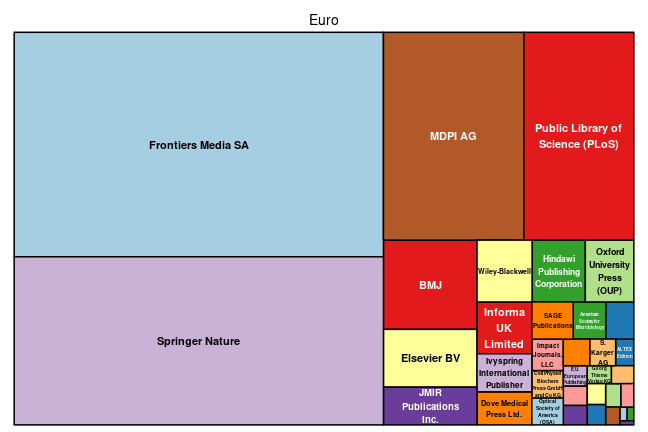 Average costs per year (in EURO)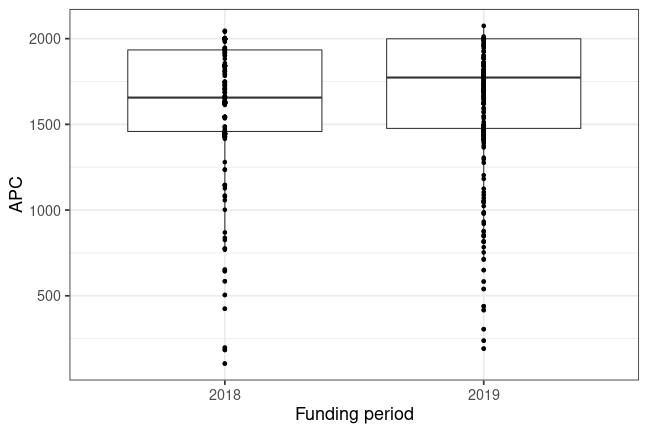 Average costs per publisher (in EURO)