The University of Rostock has updated its APC expenditures, the latest contribution provides data for the 2019 period.
Rostock University Library is in charge of the University's Open Access Publishing Fund, which is supported under the DFG's Open Access Publishing Programme.
In addition, Rostock University Library has also reported cost data on articles published under the DEAL agreement with Wiley.
Contact Person is Steffen Malo.
Cost data
The new data set covers publication fees for 99 articles. Total expenditure amounts to 134 823€ and the average fee is 1 362€.
The following table shows the payments Rostock University Library has made to publishers in 2019. Please note that articles published in hybrid Wiley journals under the DEAL agreement are not included in this list, as they are aggregated in OpenAPC's transformative agreements data set.
Publishers
|   | Articles | Fees paid in EURO | Mean Fee paid |
| --- | --- | --- | --- |
| MDPI AG | 79 | 85780 | 1086 |
| Springer Nature | 42 | 69178 | 1647 |
| Frontiers Media SA | 35 | 62943 | 1798 |
| Public Library of Science (PLoS) | 21 | 33084 | 1575 |
| Elsevier BV | 10 | 10145 | 1015 |
| Hindawi Publishing Corporation | 8 | 11240 | 1405 |
| Copernicus GmbH | 5 | 4929 | 986 |
| Wiley-Blackwell | 4 | 6141 | 1535 |
| International Union of Crystallography (IUCr) | 3 | 479 | 160 |
| Oxford University Press (OUP) | 3 | 3948 | 1316 |
| RonPub | 3 | 635 | 212 |
| Bioflux | 2 | 371 | 186 |
| Ivyspring International Publisher | 2 | 3527 | 1764 |
| Optical Society of America (OSA) | 2 | 3360 | 1680 |
| Royal Society of Chemistry (RSC) | 2 | 1711 | 855 |
| Scientific Research Publishing, Inc. | 2 | 1500 | 750 |
| Akademiai Kiado Zrt. | 1 | 549 | 549 |
| AME Publishing Company | 1 | 1457 | 1457 |
| BMJ | 1 | 1875 | 1875 |
| British Editorial Society of Bone & Joint Surgery | 1 | 1299 | 1299 |
| Cambridge University Press (CUP) | 1 | 1994 | 1994 |
| Cell Physiol Biochem Press GmbH and Co KG | 1 | 1785 | 1785 |
| David Publishing Company | 1 | 299 | 299 |
| e-Century Publishing Corporation | 1 | 1770 | 1770 |
| Informa UK Limited | 1 | 1053 | 1053 |
| Portland Press Ltd. | 1 | 1519 | 1519 |
| S. Karger AG | 1 | 624 | 624 |
| Sciaccess Publishers LLC | 1 | 1216 | 1216 |
| Scitechnol Biosoft Pvt. Ltd. | 1 | 1332 | 1332 |
| The Company of Biologists | 1 | 1428 | 1428 |
| The Korean Society of Applied Pharmacology | 1 | 620 | 620 |
| Walter de Gruyter GmbH | 1 | 595 | 595 |
Fees paid per publisher (in EURO)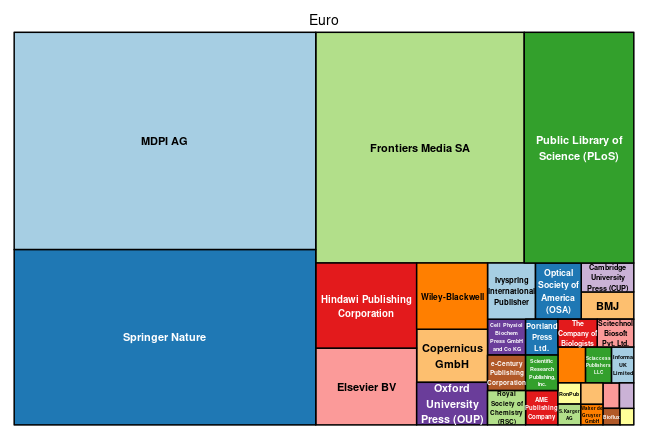 Average costs per year (in EURO)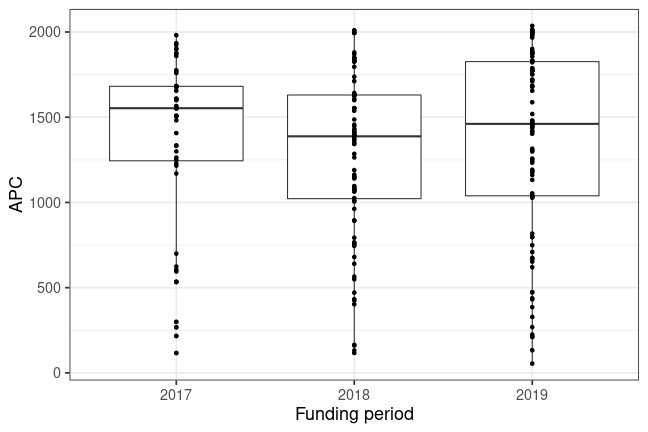 Average costs per publisher (in EURO)