We welcome the University of Liège as new contributing institution and as our first participant from Belgium!
The Liège University Library has collected data on institutional APC expenditures and provided an initial data set to OpenAPC.
Contact Person is Paul Thirion.
Cost data
The initial data set covers publication fees for 152 articles published in 2019. Total expenditure amounts to 267,591€ and the average fee is 1,760€.
|   | Articles | Fees paid in EURO | Mean Fee paid |
| --- | --- | --- | --- |
| MDPI AG | 32 | 41457 | 1296 |
| Springer Nature | 27 | 57578 | 2133 |
| Frontiers Media SA | 18 | 36831 | 2046 |
| Elsevier BV | 12 | 27624 | 2302 |
| Public Library of Science (PLoS) | 10 | 15888 | 1589 |
| Copernicus GmbH | 9 | 8719 | 969 |
| Wiley-Blackwell | 7 | 18082 | 2583 |
| Canadian Center of Science and Education | 3 | 923 | 308 |
| Presses Agronomiques de Gembloux | 3 | 800 | 267 |
| American Association for the Advancement of Science (AAAS) | 2 | 8004 | 4002 |
| American Society for Clinical Investigation | 2 | 8116 | 4058 |
| Impact Journals, LLC | 2 | 7023 | 3511 |
| Optical Society of America (OSA) | 2 | 3193 | 1596 |
| Oxford University Press (OUP) | 2 | 4124 | 2062 |
| Pensoft Publishers | 2 | 648 | 324 |
| Scientific Societies | 2 | 4732 | 2366 |
| Ubiquity Press, Ltd. | 2 | 810 | 405 |
| AIP Publishing | 1 | 1456 | 1456 |
| American Medical Association (AMA) | 1 | 4055 | 4055 |
| American Society for Microbiology | 1 | 2549 | 2549 |
| EconJournals | 1 | 296 | 296 |
| EMBO | 1 | 4247 | 4247 |
| Informa UK Limited | 1 | 742 | 742 |
| IOP Publishing | 1 | 1696 | 1696 |
| Mary Ann Liebert Inc | 1 | 735 | 735 |
| MNK Publications | 1 | 299 | 299 |
| Open Access Text Pvt, Ltd. | 1 | 683 | 683 |
| PAGEPress Publications | 1 | 600 | 600 |
| Royal Belgian Institute of Natural Sciences (RBINS) | 1 | 125 | 125 |
| SAGE Publications | 1 | 1600 | 1600 |
| Society for Neuroscience | 1 | 2813 | 2813 |
| The Royal Society | 1 | 1145 | 1145 |
Overview
A detailed analysis of the contributed data provides the following overview:
Fees paid per publisher (in EURO)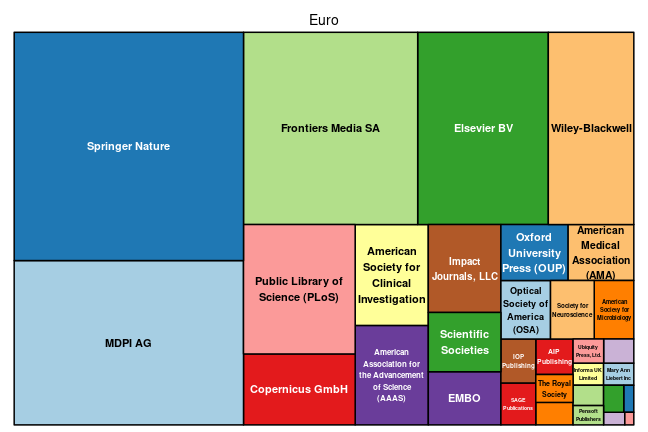 Average costs per publisher (in EURO)