The University of Münster has provided both APC and BPC expenditures for 2021 period.
Münster University Library is in charge of the University's Open Access Publishing Fund, which also supports publishing of OA monographs since 2017.
Contact person is Viola Voß.
Cost data
The new data set covers publication fees for 200 articles and 9 books. Total expenditure for articles amounts to 336,862€ and the average APC is 1,684€, while the total expenditures for books is 54,512€ with an average BPC of 6,057€.
The following tables and plots provide an overview of the payments Münster University Library has made to publishers in 2021.
Articles
|   | Articles | Fees paid in EURO | Mean Fee paid |
| --- | --- | --- | --- |
| Springer Nature | 74 | 130743 | 1767 |
| MDPI AG | 60 | 103609 | 1727 |
| Frontiers Media SA | 13 | 20908 | 1608 |
| Wiley-Blackwell | 13 | 21885 | 1683 |
| Public Library of Science (PLoS) | 8 | 13468 | 1684 |
| Informa UK Limited | 6 | 10405 | 1734 |
| IOP Publishing | 3 | 4016 | 1339 |
| Joule Inc. | 2 | 3065 | 1533 |
| Royal Society of Chemistry (RSC) | 2 | 2742 | 1371 |
| SAGE Publications | 2 | 1468 | 734 |
| University of California Press | 2 | 2000 | 1000 |
| AME Publishing Company | 1 | 1462 | 1462 |
| American Chemical Society (ACS) | 1 | 1243 | 1243 |
| American Society for Microbiology | 1 | 1922 | 1922 |
| ARVO | 1 | 1892 | 1892 |
| BioScientifica | 1 | 1785 | 1785 |
| British Editorial Society of Bone & Joint Surgery | 1 | 1755 | 1755 |
| Elsevier BV | 1 | 828 | 828 |
| Ivyspring International Publisher | 1 | 1926 | 1926 |
| JMIR Publications Inc. | 1 | 1860 | 1860 |
| Oekom Publishers GmbH | 1 | 298 | 298 |
| Optical Society of America (OSA) | 1 | 1942 | 1942 |
| Schweizerbart | 1 | 1687 | 1687 |
| Scientific Societies | 1 | 1437 | 1437 |
| Society for Neuroscience | 1 | 1919 | 1919 |
| Taiwan Association for Aerosol Research | 1 | 597 | 597 |
Fees paid per publisher (in EURO)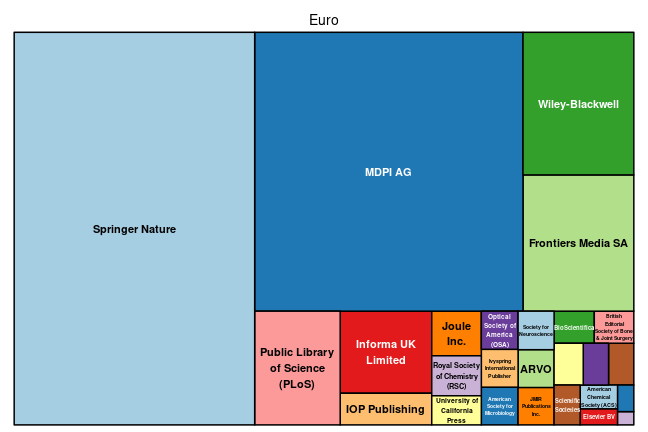 Average costs per publisher (in EURO)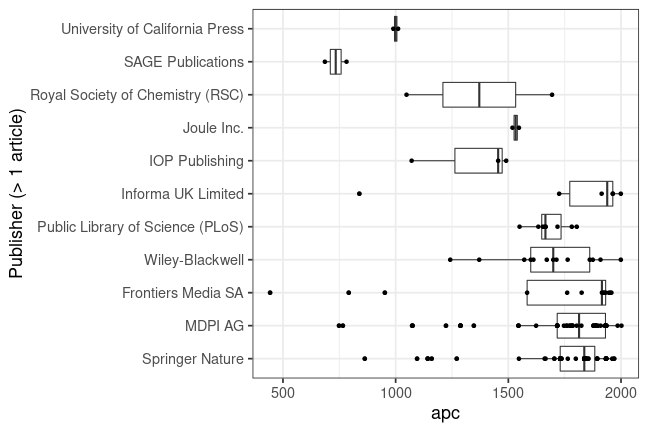 Books
|   | Articles | Fees paid in EURO | Mean Fee paid |
| --- | --- | --- | --- |
| transcript Verlag | 2 | 12225 | 6113 |
| Aschendorff Verlag | 1 | 6058 | 6058 |
| Beltz | 1 | 3960 | 3960 |
| Brill | 1 | 7140 | 7140 |
| Franz Steiner Verlag | 1 | 5458 | 5458 |
| Peter Lang | 1 | 6720 | 6720 |
| Routledge | 1 | 7000 | 7000 |
| Waxmann Verlag | 1 | 5950 | 5950 |
Fees paid per publisher (in EURO)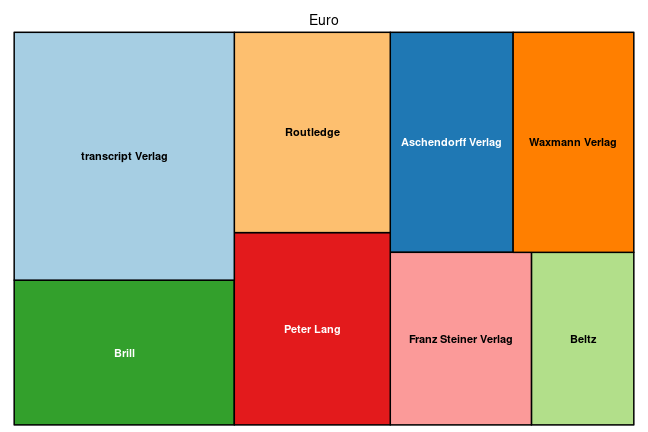 Average costs per publisher (in EURO)