New APC data has been harvested from the institutional repository of Bielefeld University, which had shifted to APC data provision via OAI-PMH.
Bielefeld University Library is in charge of Bielefeld University's Open Access Publishing Fund, which receives support by the Deutsche Forschungsgemeinschaft (DFG) under its Open-Access Publication Funding Programme.
Contact person is Dirk Pieper.
Cost data
The new data covers publication fees for 212 articles. Total expenditure amounts to 465 622€ and the average fee is 2 196€.
|   | Articles | Fees paid in EURO | Mean Fee paid |
| --- | --- | --- | --- |
| MDPI AG | 74 | 144693 | 1955 |
| Frontiers Media SA | 68 | 176814 | 2600 |
| Springer Nature | 33 | 70219 | 2128 |
| Public Library of Science (PLoS) | 9 | 19254 | 2139 |
| Informa UK Limited | 5 | 7783 | 1557 |
| Oxford University Press (OUP) | 3 | 8949 | 2983 |
| Wiley-Blackwell | 3 | 6807 | 2269 |
| Elsevier BV | 2 | 3594 | 1797 |
| Eurasian Society of Educational Research | 2 | 1245 | 622 |
| Hogrefe Publishing Group | 2 | 3480 | 1740 |
| JMIR Publications Inc. | 2 | 4926 | 2463 |
| SAGE Publications | 2 | 3305 | 1652 |
| American Physical Society (APS) | 1 | 3144 | 3144 |
| American Society for Microbiology | 1 | 1107 | 1107 |
| BMJ | 1 | 2856 | 2856 |
| Cambridge University Press (CUP) | 1 | 2793 | 2793 |
| Optica Publishing Group | 1 | 2034 | 2034 |
| Science Publishing Group | 1 | 1250 | 1250 |
| Ubiquity Press, Ltd. | 1 | 1369 | 1369 |
Overview
The overall APC data for Bielefeld now looks as follows:
Fees paid per publisher (in EURO)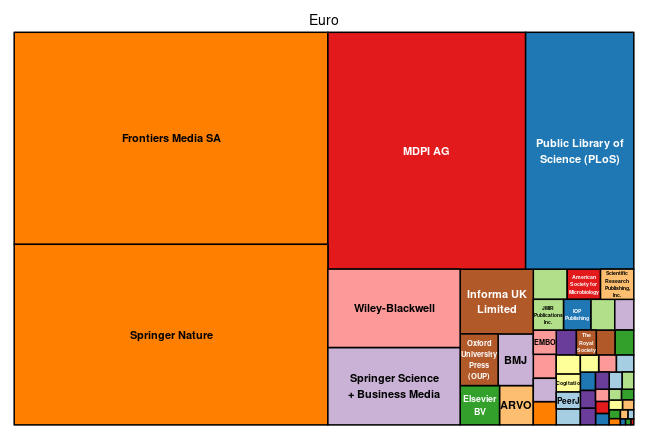 Average costs per year (in EURO)
Average costs per publisher (in EURO)