The University of Liège has provided its APC expenditures for the 2018 period.
Liège University Library collects data on institutional APC expenditures and kindly provides these data sets to OpenAPC.
Contact Person is Paul Thirion.
Cost data
The new data set covers publication fees for 116 articles, total expenditure amounts to 197,250€ and the average fee is 1,700€.
The following table provides an overview of the new data:
|   | Articles | Fees paid in EURO | Mean Fee paid |
| --- | --- | --- | --- |
| Springer Nature | 29 | 63867 | 2202 |
| Frontiers Media SA | 17 | 38357 | 2256 |
| MDPI AG | 15 | 16639 | 1109 |
| Public Library of Science (PLoS) | 12 | 20000 | 1667 |
| Elsevier BV | 8 | 17629 | 2204 |
| Copernicus GmbH | 5 | 5676 | 1135 |
| Wiley-Blackwell | 5 | 5074 | 1015 |
| SAGE Publications | 3 | 4843 | 1614 |
| Agri‐Overseas | 2 | 800 | 400 |
| American Society for Microbiology | 2 | 3372 | 1686 |
| Hindawi Publishing Corporation | 2 | 3612 | 1806 |
| Impact Journals, LLC | 2 | 6824 | 3412 |
| Scientific Research Publishing, Inc. | 2 | 613 | 307 |
| Ubiquity Press, Ltd. | 2 | 841 | 420 |
| American Institute of Mathematical Sciences (AIMS) | 1 | 320 | 320 |
| Informa UK Limited | 1 | 658 | 658 |
| MyJove Corporation | 1 | 4178 | 4178 |
| Net Journals | 1 | 502 | 502 |
| PeerJ | 1 | 944 | 944 |
| Resilience Alliance, Inc. | 1 | 896 | 896 |
| Science and Education Publishing | 1 | 389 | 389 |
| Scientific Research Publishing (SCIRP) | 1 | 651 | 651 |
| University of Economics and Human Sciences in Warsaw | 1 | 300 | 300 |
| Veterinary World | 1 | 266 | 266 |
Overview
With the recent contribution included, the overall APC data for the University of Liège now looks as follows:
Fees paid per publisher (in EURO)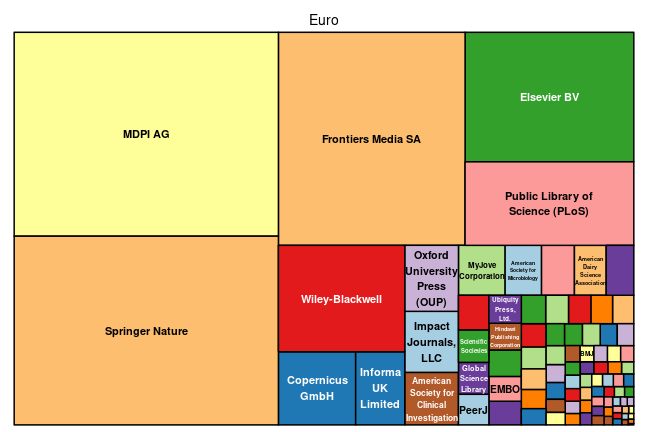 Average costs per year (in EURO)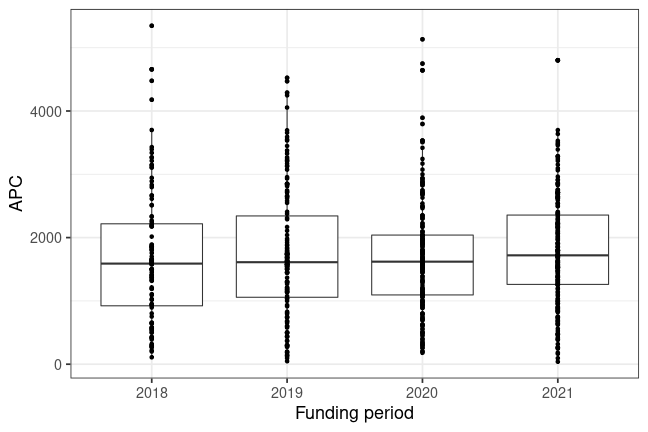 Average costs per publisher (in EURO)